Pulp Concert | New Order Concert | James Concert | Madness | Morrissey |

---
Compared to Adelaide London is overflowing with live bands from all over the globe. We've been to a few gigs, some of the major ones are described here:
Easter Weekend 2003: Massive Attack and Placebo
We recently saw Massive Attack (Friday 18th April '03) however my camera was confiscated (organisers decided to ban them at the last minute) so I couldn't get any pictures unfortunately. It was a great gig however, with very interesting matrix-style visual effects accompanying. The band also used the opportunity to raise questions about the Iraq situation, as did Placebo, who we saw a few days later on Tuesday 22nd April. Placebo played a mix of old and new songs, and as a surprise they finished off with a cover from one of their biggest influences and source of inspiration, the Pixies ("Where is my mind?"). I did have the opportunity to take a couple of pics there but the film has not been developed yet!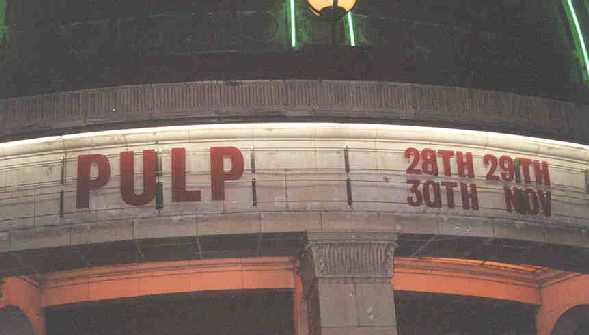 The live performance was musically impressive and interspersed with brief moments of strange Jarvis humour. Our ears soaked up a mix of old favourites and tracks from Pulp's latest album "We love life". Unfortunately, our tickets were for the seated section upstairs (we only realised this on the night). However, despite being further from the action, we still managed to catch an eyeful of the band.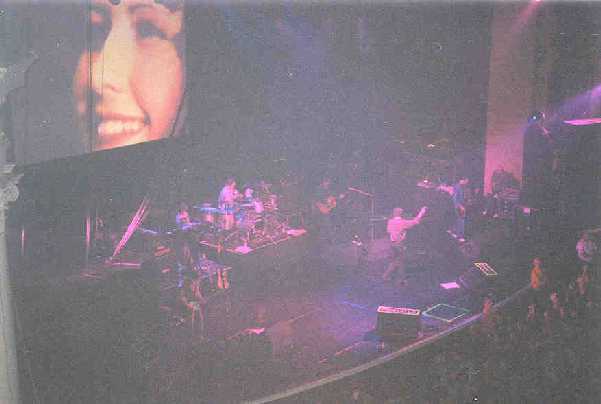 One highlight included interesting and effective use of video footage on surrounding screens. At one point, Jarvis appeared to mistake the video camera for a flaming torch, exposing his tonsils to his adoring fans!
The playlist included: F.E.E.L.I.N.G.C.A.L.L.E.D.L.O.V.E, The Trees, Sunrise, Something changed, The night that Minnie Timperley died, This is hardcore, Sorted for E's and wizz, Babies, Underwear.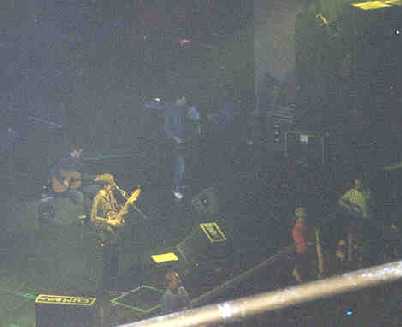 For the final encore, it was announced they'd play a song not performed for a very long time.... so long they weren't sure if they remembered how to play it!
A warped, meandering intro finally exploded into their famous pop melody of 'Common People' as a grand finale! Overall a great night was had by all.

Click here for a brief history of the band.
Better still, check out this site for some great pictures from this gig! Wish ours were that good!!!


---
The stage was rather far away as you can see, but everyone got a nice surprise when the lead singer went for a walk and a sing amongst the crowd
(photo kindly provided by Kylie Toshach).
---
In the past, New Order have been rather obstinate about playing old popular songs and Joy Division songs so we are also lucky in the fact that recently they've had a turn around and have played anything and everything. Indeed, at the Oct 12th gig we heard many classics including Bizarre Love Triangle, True Faith, Blue Monday, Regret plus songs from the new album (60 miles an hour, Crystal). Then we had a treat with Joy Division classics, all performed very well including Transmission and Love will tear us apart.
The only problem we had was trying to survive in the crowd amongst a group of rowdy Manchester blokes who enjoyed the music so much that they spent most of the time slamming into people. Not everyone's idea of an enjoyable experience! But it was still a fun concert with great music and we got some great photos!
For the entire set list and more photos from this gig check out this link.
More photos from other gigs (including the Oz Big Day Outs) are available at New Order Online .
| | |
| --- | --- |
| | "BRIXTON ACADEMY: This large (4,300-capacity) and atmospheric venue slopes down towards the stage, which is great for views, but not so good on your calves! The upstairs balcony is seated, with an excellent view of the stage, but it can feel a bit removed from the action. Popular with the bigger indie, rap and rock bands who've not quite reached arena level." (from Time Out website) |