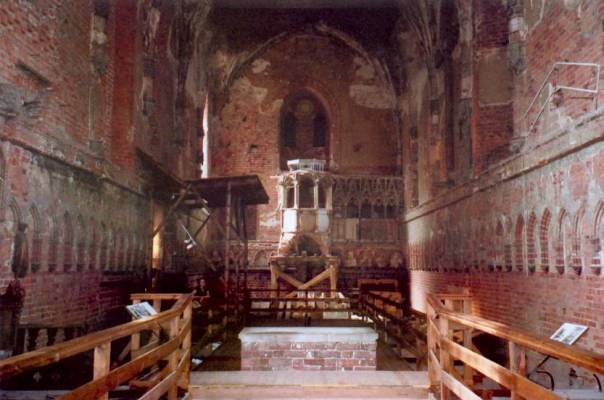 Malbork Castle -St Mary's Chapel
At the end of the war, during the first months of 1945, the Malbork Castle suffered heavy damages as a result of artillery fire. The church suffered exceptionally. In the nineteen sixties the exterior walls were rebuilt and the entirety was secured. The completion of this goal is complicated as far as history, construction, architecture and restoration are concerned. Time consuming and very expensive, it is nevertheless necessary. The church, in its dramatically ruined state, is the last of the main parts of the Castle yet unrestored. The Castle Church of St. Mary has been opened to visitors for the first time since the end of the Second World War. The exhibition includes the remaining elements of the church's interior decoration and equipment from the medieval Teutonic era, from the time of Jesuit use and from the period of Castle restoration works led in 1882-1922 by the great restorer Conrad Steinbrecht.
The exhibition is part of a larger project - the planned restoration of the church, which beside the exhibition includes a large number of archaeological and restoration activities. Two restoration teams and three technical crews cooperated with one another to prepare the exhibition. If things go successfully, the restoration works will begin in 2002 and will last for at least five years. Their estimated cost is fifteen to twenty million zloty, however the precise costs will only be known when a concept for the final appearance of the church is precisely chosen.
The selection of artefacts is as broad and representative as possible. The intention is for the artefacts to be as related to the church interior as possible. They include parts and fragments which were part of the interior and which show the quality of workmanship and the layers of history. The remaining fragments are exhibited in two bedchambers (dormitories) of the knight-monks (in the eastern wing of the first floor). Visual materials complete the exhibition - landscapes from the past, photographs and ground plans that illustrate the former shapes and locations of various objects.